---
Acupressure course in Ludhiana
Acupressure Course In Ludhiana: Acupressure is nature's health science built in our body. In acupressure therapy you have to apply pressure on certain points located on palms and soles. The pressure given on points stimulates all the organs of the body to prevent disease and to maintain good health. This therapy also enables us to diagnose and cure the disease permanently.
Acupressure is a traditional Chinese medicine therapy that involves applying pressure on specific points of the body called 'acupoints' to reduce symptoms of the body problem and recover overall wellness. Acupressure massage therapy is performed by a trained practitioner/acupressurist. Acupressurists or acupressure therapists are the professionals who study the nervous system of the body and aid patients to overcome pain and disease by pressing the body's meridian.
A skilled Acupressurist can assimilate many complementary healthcare techniques and therapies into a comprehensive treatment regimen. Acupressure treatment is gaining popularity all over the world leading to widespread employment. That's why the acupressure courses in Ludhiana are high in demand. People are accepting acupressure treatment due to its affordability and side-effect-free treatments.
The aspirants wishing to make a career in acupressure therapy can pursue a diploma, UG, and PG courses in acupressure/massage therapy.
There are 7200 nerve endings in each foot. Perhaps this fact, explains why we feel so much better when our feet are treated. Nerve endings in the feet have extensive interconnections with the spinal cord and brain and hence with all areas of the body. Surely the feet are a gold mine of opportunity to release tension and enhance health. Everyone who wants to understand the reflexes of the body should learn reflexology.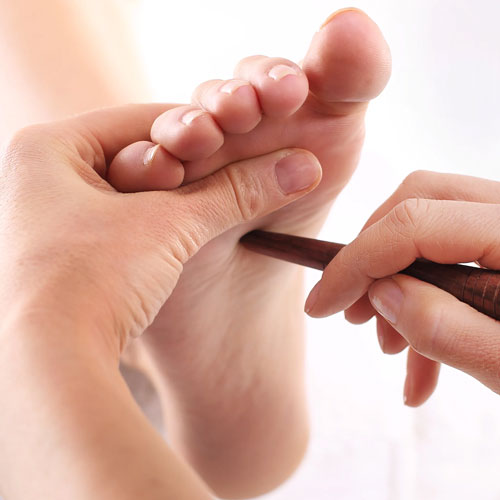 Oyester offers the credited acupressure courses in Ludhiana to equip the candidates with the necessary skills and knowledge. The aspirants can also go for specialization after the completion of the course. Graduates in acupressure can find employment in spas, hotels, healthcare, and various other sectors. In India, On average, the starting salary of a fresher in acupressure is around Rs. 1,00,000-Rs. 1,50,000 per annum. However, the pay scale increases as per the experience of the aspirant. Read the article to know more about the career opportunities in acupressure.
Acupressure course's eligibility in Ludhiana
To begin a career in acupressure, the candidate will need to apply for the Acupressure courses available in Ludhiana. The eligibility requirement of the acupressure courses in Ludhiana will vary. The aspirants must pursue a course to gain knowledge and comprehend the demands of the field. Check below the basic eligibility requirements of courses in acupressure:
Candidates must pass a minimum of 10+2 to apply for diploma and graduation courses in acupressure.
To pursue a master's course in acupressure, the aspirants must have a bachelor's degree.
Certificate short-term courses are also available for the candidates.
This course can be done both in English & Hindi Medium.
Reflexology course in Ludhiana
Reflexology alias touching therapy - an ancient form of foot massage is the application of appropriate pressure to specific points and areas on the feet with specific thumb, finger, and hand techniques without using any oil or lotion. In other words, Reflexology is a therapeutic method of relieving pain by stimulating predefined pressure points on the feet and hand. It has been practiced for thousands of years for preventing illness and for promoting good health. This alternative form of medicine has many beneficial and therapeutic effects to maintain the body's natural balance. Reflexology massage techniques and sequences can be used to get relief from the symptoms of stress, headache, stomach disorders, illness, etc.
According to reflexology theory, there are several reflex points and areas on the feet, hands, and ears, which are directly connected with all major organs and parts of the body by 'energy pathways'. It is believed that illness, injury, or disease can result in granular accumulations around the reflex points, which may block vital energy pathways. While applying pressure to the reflex points, these blocks can be removed and it allows the energy to flow freely and also improve blood circulation.
It is claimed that the pressure received in the feet may send signals that 'balance' the nervous system or release chemicals such as endorphins that reduce stress and pain. Even though reflexology is combined with massage, technically it is not a form of massage. Reflexology only applies gentle manipulation or pressing to the reflex zones on the feet, hands, or outer ears to affect the entire body.
Our reflexology course in Ludhiana makes you the medical professionals who relieve stress and pain in the body through manipulation of the feet. Reflexologists manipulates the reflex/ pressure points according to specific techniques of reflexology therapy. They work from maps of reflex points that are located on the hands and feet. Reflexologists mainly work on the feet, but they also work on other parts of the body such as hands, face and ears. They divide the body into ten equal vertical zones, five on the right and five on the left that are used to locate specific areas of the body. Reflexologists apply pressure to these points systematically over a few days, which are believed to cure the disorder of the associated organ.
Reflexology is not a beauty therapy or a foot massage but is holistic treatment with some scientific evidence of effectiveness. While going through the reflexology courses in Ludhiana you'll understand that it helps people to relax and unwind and allows the body to function more effectively. Although reflexology is not used to diagnose or cure health disorders, millions of people around the world use it to treat a wide range of health conditions such as headaches, migraine, sinus problems, arthritis, hormonal imbalances, circulatory problems, digestive problems, back problems, injuries, tension and anxiety, menstruation and fertility issues insomnia and stress-related disorders, etc.
Learn Thai foot reflexology massage to treat your friends, family, partner or your massage clients. It is easy, simple and a joy to do. You will have them begging for more! By the end of this course, you will have the skills to start up your own reflexology business and start earning money as a reflexologist. Wouldn't it be great to earn extra money or begin a new career?
Reflexology course's eligibility in Ludhiana
Those who have an interest in alternative medicine can become certified Reflexologist using our Reflexology course in Ludhiana. The basic requirement for joining this course is 10+2.
---