---
8 best Bridal Makeup Tips to get Jaw-drop & breathless attention
Hired a professional team for the wedding, to get you ready on time? But you still have doubts about the professional's skills that you've hired. You want to follow the latest trends in the beauty makeup industry and want to be as attractive as you can. So, follow these 8 Best Bridal Makeup Tips to get Jaw-dropping & breathless attention:
Whether you have a professional make artist getting your ready or a friend helping you out. Make sure that you know what you want to look like. Make some time and search on the internet for inspiration. Download the pictures or images of bridal makeup looks that you like.
You should try the full makeup by your artist before the wedding. Make sure that the foundation concealer is matching with your skin color tone.
If you want to look great, at your wedding. Make sure that you get plenty of sleep. You should eat and drink well according to your nutritionist's guidelines. As there is an old saying, beauty starts from the inside out.
At your wedding, you should go for waterproof or water-resistant eyeliner. It would be difficult to remove, but the last thing you want is to have your eye makeup running down your face.
Use a little highlighter or light-toned eyeshadow and apply it to your eyebrow bone. This will emphasize your eye, but it's recommended to use matt eyeshadows. Doing so will help you avoid reflecting too much light while photo shoots.
The most beautiful makeup is the makeup you feel comfortable with. Don't go overboard, if you haven't done this before.
Whether you are going for a natural makeup look or something more glamorous. You must keep your personality style & wedding style (indoor & outdoor, dress) in mind.
Weather plays an important role to decide your makeup type. As in summer go for waterproof or water-resistant makeup.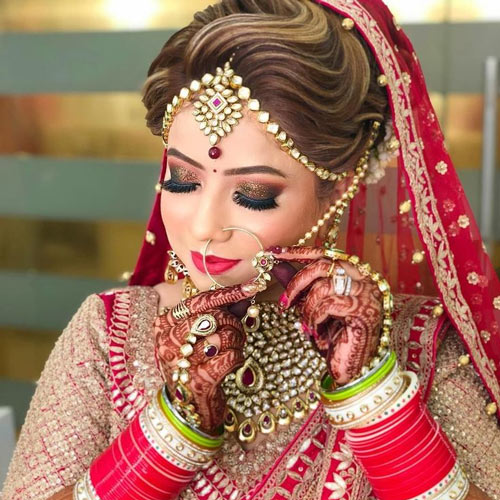 Get professional services in Ludhiana for bridal makeup
If you are looking for professional services to get you modern wedding-ready. Try our best and professional bridal makeup services in Ludhiana. Our trained experts will get you ready as well as guide you with everything you need to look more glammy at your wedding.
---